Art collector's paradise with over 140,000 square feet of storage, concierge services, and top-level security housed inside of a "blank canvas" facade.

The Vault
Design team:
Oppenheim Architecture + Design
Location:
Miami, USA
When to visit:
early 2010
Switzerland-based Oppenheim Architecture+Design, in partnership with Javier Lumbreras of Artemundi & Company, have unveiled plans to build an art storage facility or as art insiders calling it,"The Vault" in the trendy Wynwood Design District, Miami.

The Vault is 11 storey high, with 14000 square foot of storage facility. The exterior of The Vault will serve as an important public art installation. With constantly revolving panels featuring art by emerging and established artists, the prototype facility will look unlike any other storage location in North America.

Oppenheim's design of The Vault will also include a high-tech art storage facility with concierge-level services for owners seeking peace of mind and new ways of expanding collections. Client services will include a state-of-the-art onservation laboratory, collection and logistics management, and premium financial and insurance services. Members will have access to exclusive showrooms and exhibition spaces for their collections.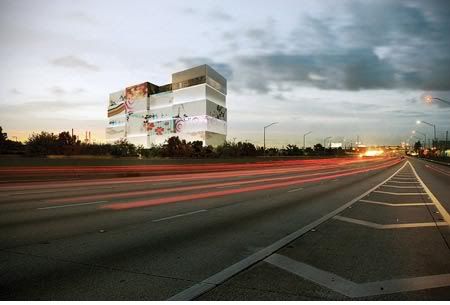 "Like the art to be housed inside, the facade of The Vault will engage the public in a dialogue and become a kind of social architecture that will enrich the lives of all who come in contact with it," describes Oppenheim.
Understanding the importance of conservation and management,Javier Lumbreras's The Vault seek not only to minimize the burden of managing art collections and other valuables but offer art collectors the ability to enhance and refine them.
via
dezeen
|
Oppenheim Architecture + Design