'I wanted Switch to be a strong, symmetrical soft organic womb-like space composed of a continuous, undulating wall that wraps around the entire restaurant', said Rashid.

Switch Restaurant & Lounge
Design Team:
Karim Rashid
Location:
Dubai Mall, Dubai, UAE
When to visit:
Anytime
Switch Restaurant and Lounge is the first restaurant in the UAE designed by Karim Rashid. Switch's main objective is to change the dining standards of Dubai. The idea behind it is to create a switch, where dining becomes once again an "experience" not just a necessity.
The Switch going to be a break from the norm. In fact, the futuristic space bears all the hallmarks of the world-renowned contemporary visionary, from the ergonomics chair and lilac lighting to the curved walls of the white, womb-like space.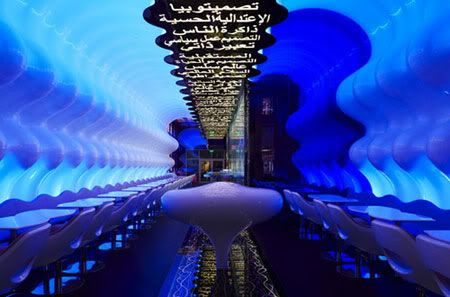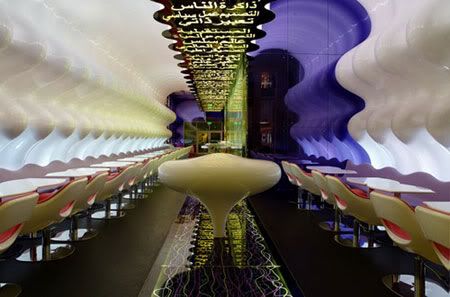 It is a unique environment of symmetry and balance that completely envelops the guests. Every experience is composed of views, smells, tastes and sounds here. The senses create individual backgrounds for a truly amaing global dining experience. The continuous wave seating provides an efficient and dynamic operating system. In Switch, Rashid creates a powerful, clean space that offers a beautiful perspective, an oasis free from chaos.
Rashid uses the languges, iconography and geography of the GUlf region: The backlit ceiling artwork consist of stylized inspirational Arabic phrases, while the design's creates play of light and shadow is intended to evoke the sand dunes of the desert.
"My intention was to create a truly unique space for Dubai Mall that will become an iconic reference, not nly in Dubai, but also in the rest of the world" - Karim Rashid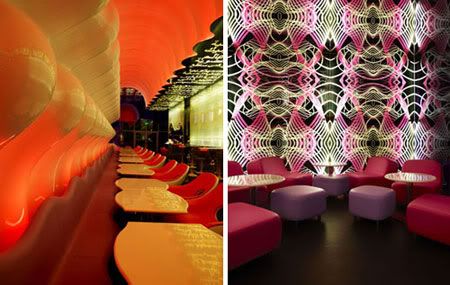 via
Switch
Continue reading...