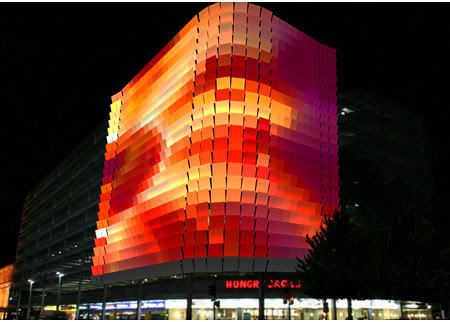 The Rundle Lantern is a unique canvas that uses computer controlled LEDs to illuminate 748 square panels to deliver a platform for digital art.

Rundle Lantern
Design team:
Fusion
Location:
Rundle Street U-Park, the intersection of Rundle Street and Pulteney Street, Australia
When to visit:
Anytime. The Rundle Lantern will be illuminated from dusk until midnight, year round. For special events in the City the hours will be extended.
The purpose of the Rundle Lantern is to invigorate and enliven the intersection of Pulteney Street and Rundle Mall. This is achieved through the delivery of an arresting and unusual architectural form in the daylight hours, which transforms into an illuminated cultural canvas from dusk until midnight. The project was initiated as a response to a recommendation within Adelaide City's urban master plan to create a convergence point at the described intersection. The vision for the Rundle Lantern was to create an urban design solution that 'Adds Beauty to People's Lives'.

Fusion were one of six firms invited to pitch for the opportunity to invigorate the corner of Pulteney and Rundle Streets, creating a gateway to Rundle Mall. Fusion is the only non-architectural firm asked to submit concepts.
While other concepts submitted all required new building, landscaping or form. Fusion vision was to add beauty to people's lives without affecting the environment, to work with current structures, and to put Adelaide on the global map.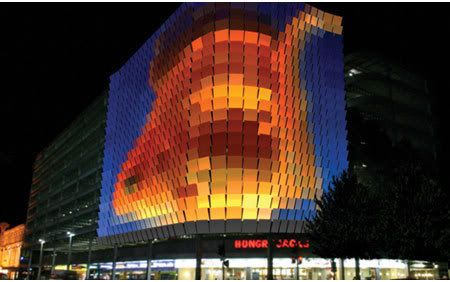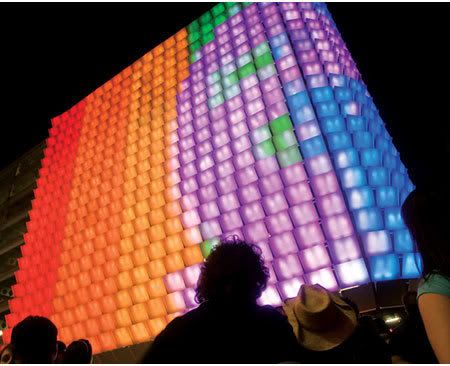 Illumination of the Rundle Lantern is through 17,952 light emitting diodes (LED) configured as 5.984 of each colour – red, green and blue through 1496 units that contain 12 clusters of red, green and blue LED's each.
The LED's can create any configuration of 16 million colours that are reflected upwards onto 748 aluminium panels of 1.1 m X 1 m.
The total size of the Lantern is 1,066 square metres (nine levels high), transforming the fascia of the Upark carpark on Rundle Street into a light and colour extravaganza.
The Rundle Lantern can be programmed to display simple numbers, letters and geometric shapes as well as an infinite array of lights, colours and morphing designs, patterns and scheduled light shows.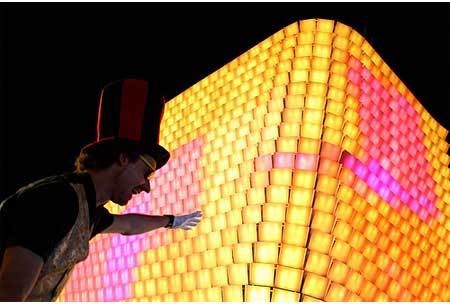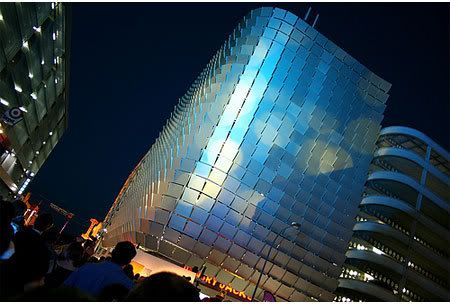 Update: Rundle Lantern's project leader, Damien Mair has just sending me a video link on Rundle Lantern Launch, 7:30pm October 2008. It's worth watching to get a feel on Rundle Lantern experience.
Rundle Lantern Launch
from
Damien Mair
on
Vimeo
.
via
Fusion
|
Adelaide City Council

Photo credits:
Andrei Martin Diamante
|
Fusion
|
Adelaide City Council
Continue reading...