"It is a paradox, a building on a harbour scale, inspiring simplicity and robustness, but which betrays its complexity as soon as one penetrates its volumes," says Nouvel. "One enters a universe of whiteness and depths."

Les Bains des Docks / Aquatic Complex
Design team:
Ateliers Jean Nouvel
Location:
Le Havre, France
Cost:
16 000 000 €
When to visit:
Anytime.
2008 Prtizker-prize winning architect Jean Nouvel has designed a 12-pool swimming complex as part of a €31m masterplan to regenerate the docklands of Le Havre, on France's Normandy coast. Called Les Bains des Docks, the 5,000-square-meter aquatic complex is inspired by the Roman thermal baths.
In keeping with the industrial landscape, Jean Nouvel designed a plain, shed-like facade, but the interior is a complex volume of Tetris-like surfaces. Nouvel used a language of geometric concrete blocks, influenced by the way Spanish sculptor Eduardo Chilida "penetrates mass with light and void". The interior is covered in white mosaic tiles and a strip of brightly-coloured foam blocks in the children's play area, make it look like a pixellated bouncy castle.
The complex comprises 12 pools, including a 50 x 21 metre outdoor pool, several leisure pools, a sauna, hammam, spa and fitness room. Each pool is designed, shaped and lit to create a unique "private space" for its specific users. These seemingly enclosed areas with varying-height floors and acoustic ceilings help minimize echoing and sound carriage – an annoying aspect of most swimming centers.
The centre opened in July last year.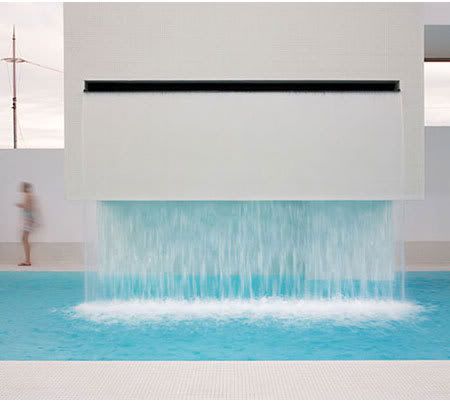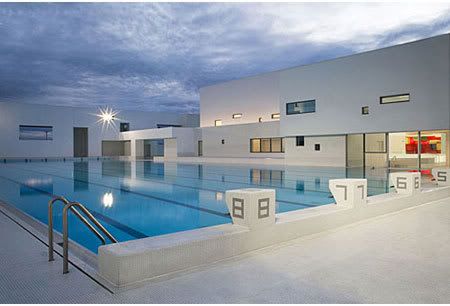 via Ateliers Jean Nouvel | Daily Icon
Photo credits: Clément Guillaume