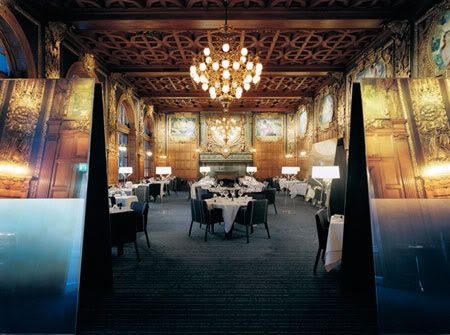 One of Stockholm oldest and finest restaurant, Operakällaren means "The Cellar of the Opera". But do not be put off. This restaurant not hidden from the ray of sun or even underground. The restaurant commands splendid views across water to the King of Sweden's palace.

Operakällaren
Design Team:
Claesson Koivisto Rune
Location:
Royal Opera House, Stockholm, Sweden
When to visit:
Main Dining Room- Tuesday to Saturday 6 p.m. to 10 p.m.
Cocktail Bar-Tuesday - Saturday 6 p.m. to 1 a.m.
Since 1787. this restaurant situated in Stockholm's Royal Opera House has been a Swedish institution. Much of the ornately decorated 1895 interior is protected as cultural heritage. The strongest architectural component in the newly design interior is a series of free-standing, giant, angled mirrors, defining the space and separating the passageway from seated guests. The gold-tinted mirrors are laminated with a film that controls the sector of vision, preventing guests from seeing their own face dearly reflected. Claesson Koivisto Rune also designed a complete range of new furniture, carpets, lighting etc made by a handful of Italian and Swedish manufacturers.
The veranda was not protected as cultural heritage, allowing the designers much greater freedom. The floor level was raised to match the dining hall. The windows were cleared, affording a fantastic view of historic central Stockholm beyond. Now with the ambience more akin to a summer veranda, white color palette is used, which also contrasts well with the dark blue interior next door.
Operakällaren was honoured with one star in prestigious Guide Michelin and five red 'Couvert symbols', crossed forks and spoons & The Best Restaurant Ambiance of the Year by White Guide 2006.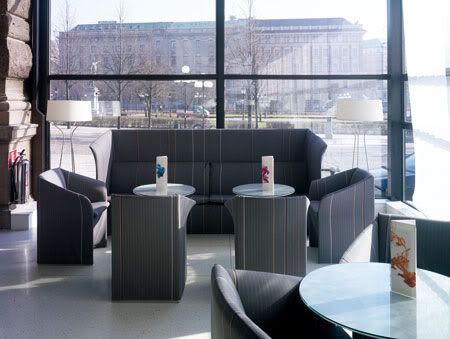 via
Claesson Koivisto Rune
|
Operakällaren