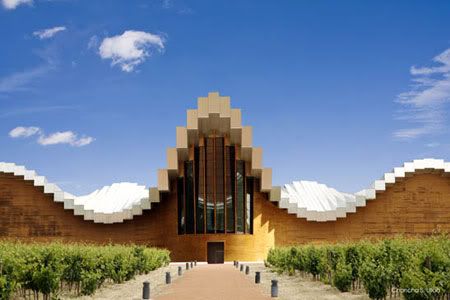 The building is conceived as an element completely integrated in the surrounding landscape and, at the same time, as an autonomous site-specific sculpture.

Bodegas Ysios
Design Team:
Santiago Calatrava
Location:
Laguardia, Spain
Cost:
$6 million
When to visit:
Completed 2000
The Bodegas and Bebidas group wanted a building that would be an icon for its prestigeous new wine "la Rioja Alavesa" and at the same time accomodate the precise and rigorous program of spaces needed to make, store and sell wine.
The site is uneven, with pronounced grade changes of as much as 10 meters from the highest levels in the north, to the lowest in the south. About half of the site is occupied by vineyards.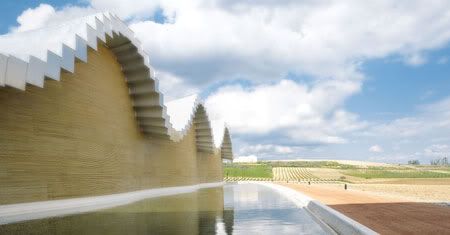 Calatrava adopted the strategy of giving a volumetric treatment to the roof and walls - physical limits of the landscape outside and the winery within - so that continuity between the two spaces is achieved through the "static movement" of the enclosures. Two 196 meter long concrete, load - bearing walls, placed 26 meters apart, trace a sinusoidal shape in both plan and elevation.
The roof, composed of a series of laminated wooden beams, supported on the staggered sinusoidal cornice of the lateral walls, is treated as a continuation of the facades. The result is a ruled surface wave, which combines concave and convex surfaces as it evolves along the longitudinal axis.
The building is outlined as a simple rectangular plan, along an east - west axis, to accommodate the linear program for the wine making process. Two entrances in the side facades emphasize this linearity.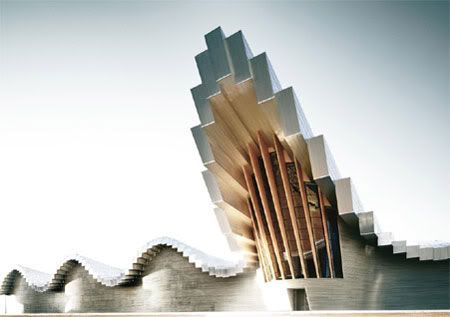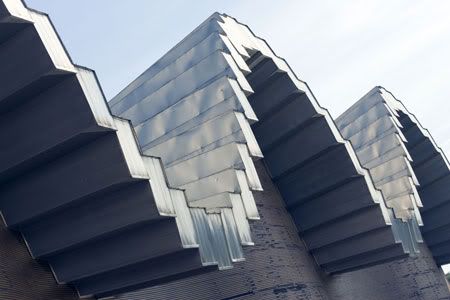 The interior of the winery unfolds in a roughly linear sequence on two levels, with hoppers of grapes entering on the west and finished cases of bottled wine exiting to the east. Calatrava exposed the utilitarian nature of the interiors, specifying simple materials and finishes and allowing the swooping ceilings and zigzagging walls to provide the visual excitement.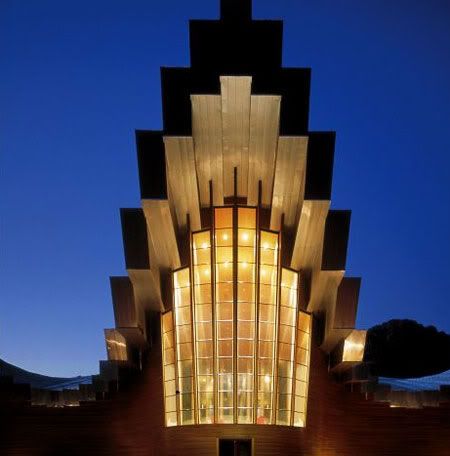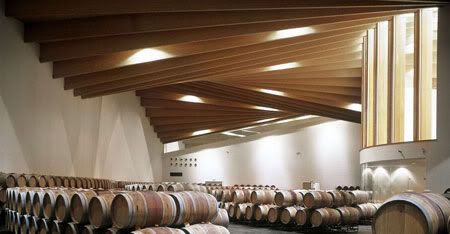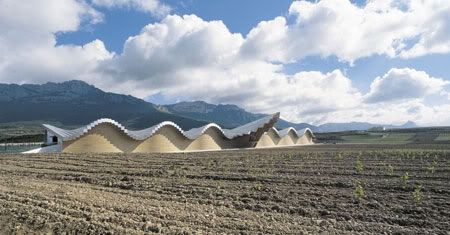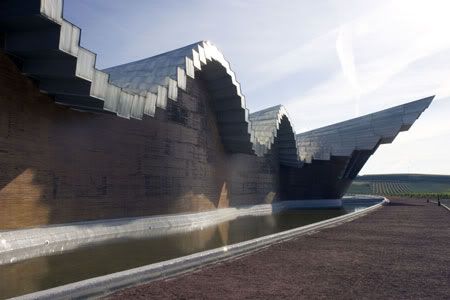 via
arcspace
|
Santiago Calatrava