Named "The Lotus', the design was inspired by the lotus bud, a homage to centuries of local culture and history. The flower, which blossoms from mud, is symbolic of pureness and elegance.
The Lotus
Design Team:
Thinkscape Team3
Location:
Hanoi, Vietnam
When to visit:
Under planning stage.
Hanoi, more known for its ancient and colonial history and attractions, is experiencing a highrises' boom in recent and upcoming commercial and residential developments. Among these is a luxury serviced apartment to be located possibly at the city's West Lake district, for which an international concept-design competition was organized.
The Malaysian firm Thinkscape Team3, beat competitors worldwide to win the best-of-show Special Award. Their winning design for what was to be the tallest tower in the city had impressed the judges/organisers, for its' creativity, identity, functionality, cultural and environmental relevance.
Thinkscape Team3's design of the tower - vertically divided into two halves - also represents the palms of two hands pressed together, a very Asian gesture of offering and sincerity. The equal division of the tower reflects the philosophy of balance and harmony, and its surrounding landscape the organic shapes of lotus leaves on a pond.
Instead of the cliched concrete block or glass box, the exterior of this tower consists a jigsaw of metal shutters from individual units. As each dweller open and close their respective shutters, the texture of the building evolves - thus ensuring the tower will never look exactly the same at any given time. This also mimics the lotus in a pond, which blooms and closes at different times of day. The tower will stand as the witness to the elegance of Vietnamese culture and environment. As time goes by. no matter how the lake changes, the tower will remain tall as a testament to the grace and spirit of the Vietnamese and the beauty of the West Lake.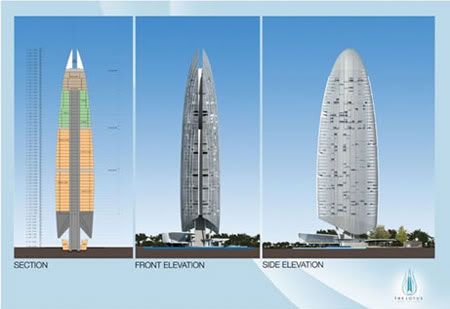 via
Thinkscape