Looks like a big box wrapped in fancy tights, the striking facade was derived from a fabric design found in the John Lewis textile archive way back in 1803.

John Lewis Department Store
Design Team:
Foreign Office Architects (FOA)
Location:
Leicester, UK
Status:
Completion 2008
The design of the John Lewis Department Store and Cineplex by Foreign Office Architects is within the redevelopment of an existing inner-city retail centre in Leicester. Refuse to create a conventional opaque retail box, the department store design explores a layered transparency that will allow visual interaction between the store interiors and the city as in a net curtain. This is achieved through a double layered skin with a lace-like pattern applied to both layers. This membrane will act like a veil to the department store as well as a sun shading device to the interiors. The moire lace not only acts as a technical device, allowing for programmatic flexibility in the interiors whilst opening them to views and natural light, but it also will resonate, with the cultural and historical context of the city as well as with the tenant's brand: John Lewis.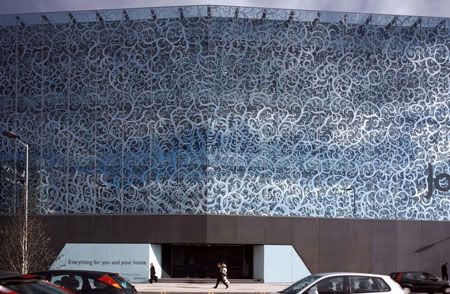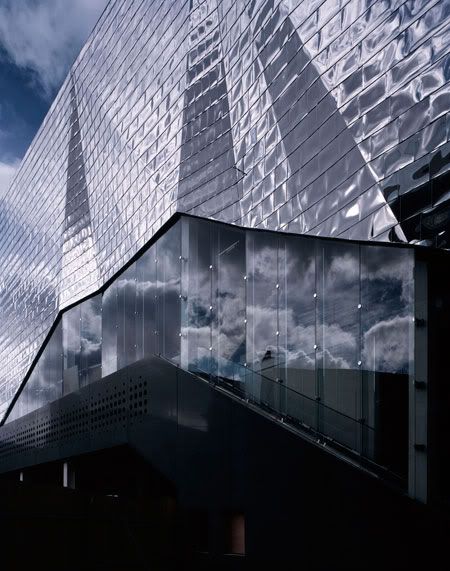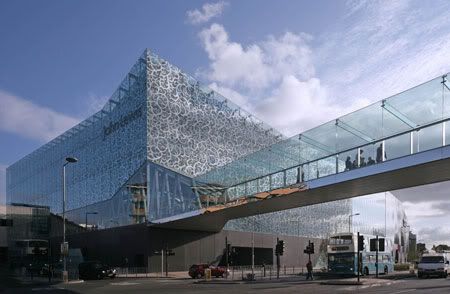 The lace pattern draws on the rich history of Leicester City and John Lewis itself in respect to textile manufacturing and hosiery, and the large Asian population in Leicester. In order that the glass curtain wall achieves a textile affective quality, the lace pattern is built as a combination of four basic templates that vary in density but always meet at the edges in identical ways. This allows for provision of different degrees of opacity to the interiors as well as giving an appearance of non-repetitive and seamless fabric.
The decorative facade, which is a double layer of glass with a mirrored frit, acts like a net curtain. Inside, the pattern on the two layers lines up exactly, so customers can see out, but when viewed at an oblique angle from the pavement, the pattern becomes almost opaque.
In order to establish synergy between the cinema and department store, the concept of fabric is extended to the Cineplex. The Cineplexes is a blank envelope enclosing 12 screens with no requirement of any daylight to the interiors, except in the areas of lobbies. The enclosing skin is designed as an opaque stainless steel rain screen which is treated in mirror finish and pleated at different scales to diffuse the large volume into a series of smaller reflective surfaces, animating the blank volume.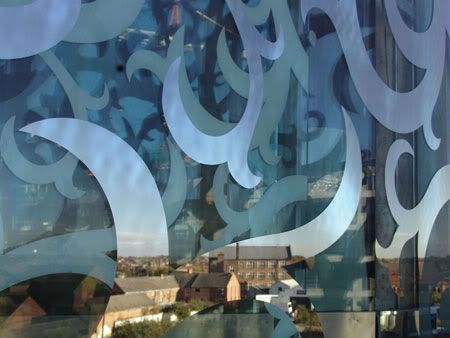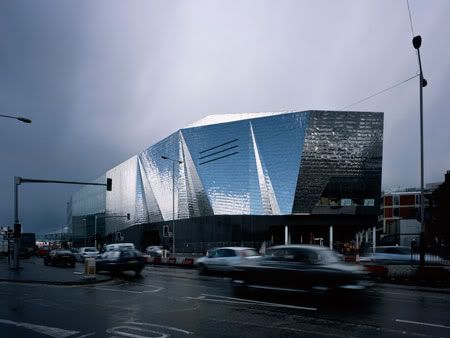 via
FOA