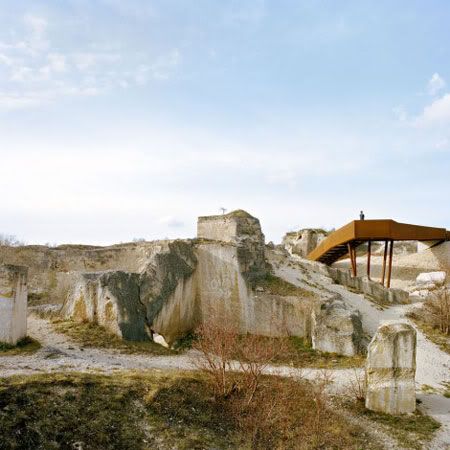 The building is designed in the deconstructivist style -with a limited palette of concrete, untreated timber and corten steel. The material choice accentuates the counterpoint of ramp and landscape by matching most of the materials to the colour of the surrounding sandstone, leaving the corten steel as the only strong visual element.

Roman Quarry
Design Team:
AllesWirdGut Architektur ZT GmbH
Location:
St. Margarethen, Austria
Status:
Completion 2008
The quarry near St. Margarethen in eastern Austria is a special location with a 2,000-year-old history. In the 1950s, a sculpture symposium was established. Later, passion plays were performed there, and today the arena also provides a natural setting for an annual opera festival.
With the steadily growing numbers of visitors (up to 6,000 an evening), a redesign of the entire infrastructure became necessary. The underlying idea of the winning concept was to treat every area as part of the mise en scène and to integrate the rocky landscape into all phases of a visit to the theater.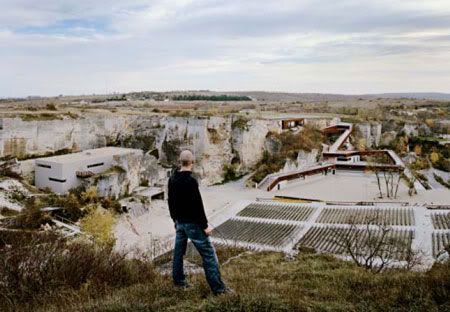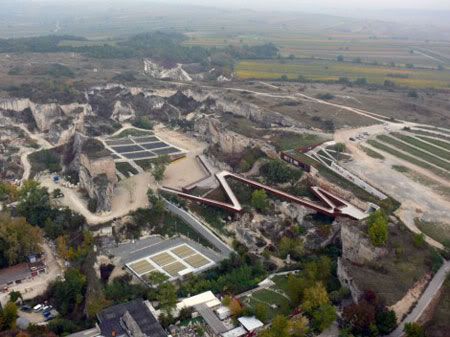 Impressed by the rugged beauty of what was essentially a derelict industrial site and by the precise works the artists had installed there, the architects saw their design as a continuation of the sculptural tradition. This called for a clear, yet simple formal language.
The access route leads from the car park to the entrance structure. After passing through a short linking tunnel, a breathtaking view of the arena opens up to visitors. From here, the centrepiece of the design – a 330-metre-long ramp that is also accessible to the disabled – makes a broad zigzag over rocks, ravines and the roof of the service structure, finally leading down to the festival location, which is 19 metres lower. Especially at the turning points along this route, visitors can pause to admire the sculptural quality of the project.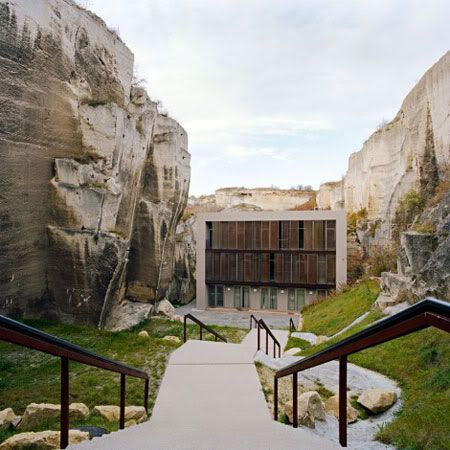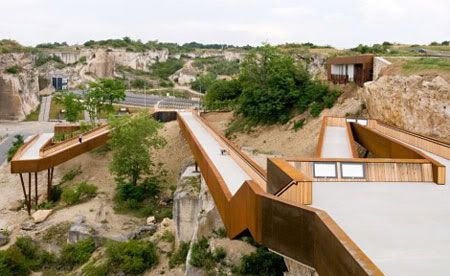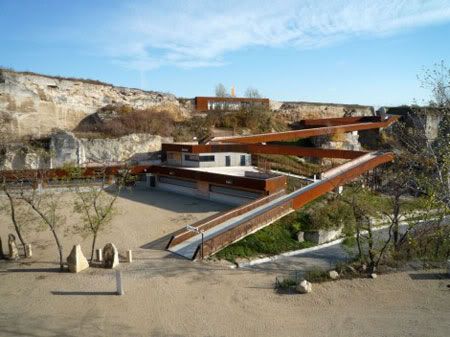 The form of the ramp and the facade to the entrance structure are precisely defined through the use of preoxidized steel sheeting. This is not just a reminiscence of the industrial past of the location; it also meets quite pragmatic needs. The pre-corroded surface provides protection against the weather as well as against vandalism in the winter months. Wherever visitors are likely to come in contact with these surfaces, though – at the box office, catering counters, toilet entrances, etc. – white fibre-cement sheeting has been used, which creates a more refined note in contrast to the rough sandstone and the rusted steel.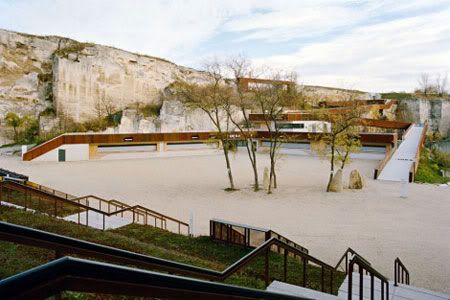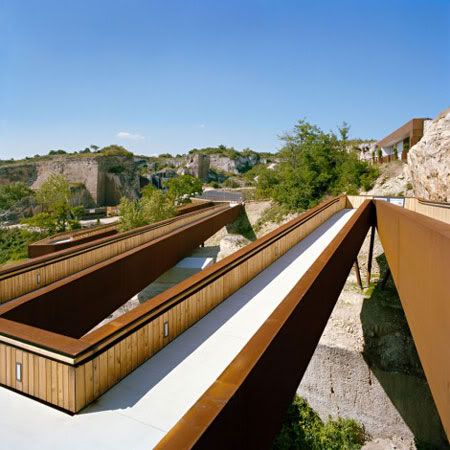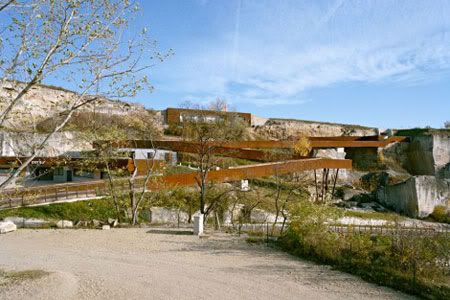 via
detail.de
|
alleswirdgut