A key element of the proposed design is to make sure that the people of Southend use the Pier and take it into their heart. The Pier Head should be a vibrant place filled with activities with a walkable and bikeable street with attractive destinations located every 500 metres.

Southend Pier
Location: Essex, south east England, UK
Status: winning design
Teamed up with Price & Myers, White Arkitekter from Sweden won the prestigious competition to redevelop Southend Pier situated on the English Channel and the mouth of the Thames.
Southend Pier was in 2007 voted Pier of the Year and is the longest pier in the world. An iconic pier with its own distinctive character, history and people. One of the main attractions of the Pier is the view of the sea, and in particular, the feeling of being on the sea.
The Pier will be an extension of the High Street's urban fabric onto the sea. White Arkitekter have proposed a series of destinations starting at Priory Park and ending at the Pier Head, transforming the pleasure pier into an urban pier. The Pier Head designed as a public space functioning like a modern Agora, part theatre, part art space, acting as a vibrant meeting place for both the people of Southendon-Sea and visitors.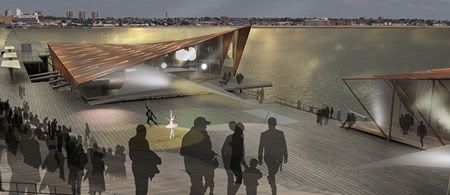 The main feature of the new Pier Head design will be an open air theatre with a terraced platform that will create lee, view point and seating for the audience. The outdoor theatre, with the Southend coastline as backdrop, has the capacity of 500 spectators. New buildings - a Culture Centre and a Restaurant - will be built offshore next to the existing Pier Head, creating a balanced enclosure and populated edges around the theatre space.
"The dramatic curving shapes of the buildings are derived from the wind and the waves themselves. This public, yet enclosed, space will be perfectly integrated into the scenery. It will be sculpted by wind and wave", says landscape architect Niels de Bruin.
Materials will be low maintenance and long-lasting. In this specific setting we prefer materials with an untreated natural finish such as timber, corten steel and glass. These materials will add personality and warmth to the elegantly shaped buildings. The aggressive maritime environment is extremely hard on most traditional building materials and they have to be considered carefully in the design process. All new buildings will be self-sufficient. Energy efficient design and renewable energy sources including wind turbines for electricity, natural ventilation and sea water heat pump, will make it a carbon neutral development.