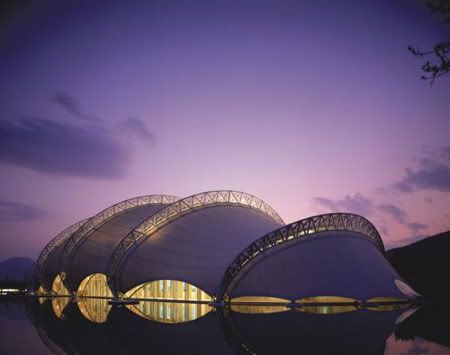 The building is situated like an island in the middle of a rectangular pool and follows the outline of the foundations of a convent which once occupied this site.

M&G Ricerche Research Laboratory
Location: Venafro, Italy
Status: Completed 1991
As chemical industry research laboratory, the centre consists of two areas: a technical area with pilot plants for the development of production and processing methods, and a chemical-physical area with labs for the synthesis and analysis of chemical products. The implementation of these chemical and physical largescale experiments has a varying space requirement which is predictable only with difficulty. From this fact resulted the requirement to create an open, column-free space as large as possible, which at the same time would allow for separate tests to be carried out in smaller protected units.
The site eventually chosen, Venafro in the South of Italy, is a large valley surrounded by hills, fields and traditional buildings.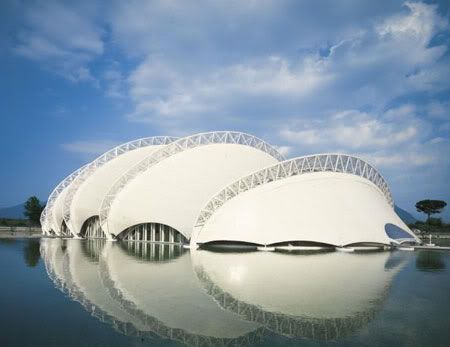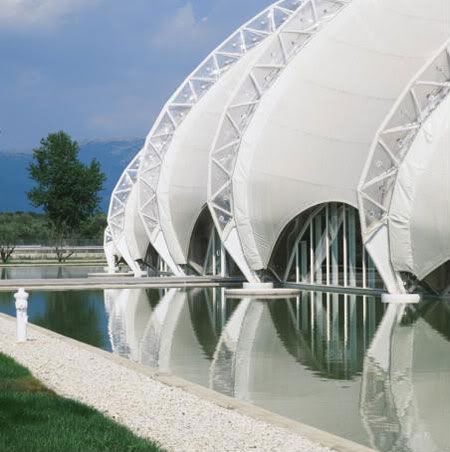 A light tentlike form appeared from the first sketches and evolved into an almost oval form, 85 m by 32 m, creating a single volume covered with a lightweight 15 m high structure, and supported by symmetrical metal lattice arches held by six longitudinal suspension cables. This space, lit by the translucency of the membrane, as well as by the perimeter steel framed and arched window, is used for both types of research.
The structure is placed in the centre of an oval reflective pool, designed for security, thermal regulation, and to enhance the form and the landscape with its reflections and coolness. The closed research areas as well as the offices are completely air-conditioned.
The membrane is made of PVC coated polyester, stretched between metal arches. At its base, a cable holds the feet to the arches positioned in the pool. The junction between the membrane and the metallic perimeter half-arches is made of a supple transparent PVC material that is fixed into the perimeter of the half-arches and on to the membrane's main suspension cable.