The concept of the museum is to provide narrative context for the Jewish story in Poland.Many Jews visit Poland each year and see only the death camps and cemeteries, never learning about the rich history of the country's Jews. The museum will teach Jewish visitors about this long history as well as the lessons of the Holocaust. "To see only death and not life is wrong, we should remember both our tragedy and our lives."

Museum of the History of Polish Jews
Design Team:
Rainer Mahlamaeki of Lahdelma and Mahlamaeki Architects
Location:
Warsaw, Poland
Cost:
$55 million
When to visit:
2009
Rainer Mahlamaeki of the Helsinki firm Lahdelma and Mahlamaeki Architects was chosen from a group of 250 architects in a blind competition where submissions were numbered to ensure architects' anonymity.

The jury looked for a design that would fit with the museum's interior space and exhibits, which have already been designed. The 140,000-square-foot museum will feature eight central galleries dedicated to telling the story of Jews in Poland from the Middle Ages to today. The displays incorporate state-of-the-art multimedia installations that showcase the museum's collection, including an archive that represents over 60,000 objects collected from around the world.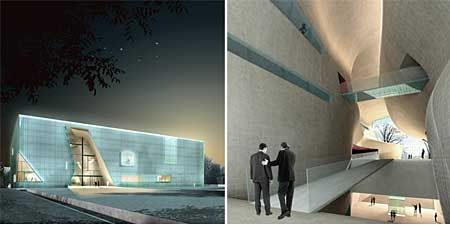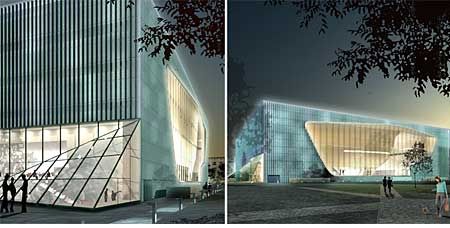 One of the main design elements of the new museum is a bridge that symbolizes the passage of Jews through history. The museum exterior is square in plan to echo the shape of the plaza on which it is situated but the transparent glass walls reveal an interior of organic, undulating forms. The design alludes to the Old Testament's miraculous parting of the Red Sea through which the prophet Moses led the Jews to escape captivity in Egypt to life in the Promised Land. The curved walls and ceiling are faced in limestone and lit from above, providing a dramatic sight from both interior and exterior viewpoints. In this way, the museum's design foregrounds the life of the Jewish people over any particular catastrophic events in history, and its transparency reflects the desire for a truthful reckoning of the past.



The soaring entrance hall reaches from ground level to the roof, measuring over 52 feet high and stretches across the length of the building, providing sightlines to the existing Memorial of the Heroes of the Warsaw Ghetto, designed by Natan Rappaport, situated across the plaza from the Museum. The chasm that divides the 16,000-square-foot main lobby underscores the contrast between the building's minimalist exterior and multifaceted interior program.




The museum not disturbing the Rappaport monument, which was unveiled in 1948, was of particular concern because it has long stood as a symbol of Jewish resistance and it's the most important emotional space.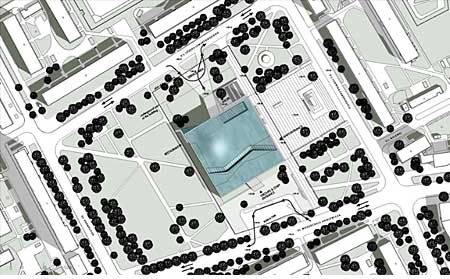 via Lahdelma & Mahlamaki Architects | Museum Of The History Of Polish Jews