Both pavillions are intended to echo the audacity of the 1909 Burnham Plan, which proclaimed, "What we as a people decide to do in the public interest we can and surely will bring to pass."
The Burnham Pavilions
Design Team:
Ben van Berkel of
UNStudio
,
Zaha Hadid Architects
Location:
Millennium Park, Chicago
Cost:
USD $500,000 each pavillion
When to visit:
19th June - 31st Oct 2009
The Burnham Plan Centennial Committee has unveiled designs for two temporary pavilions that will be installed this June in Millennium Park, symbolizing the forward-looking agenda of the 220 organizations commemorating this year's 100th anniversary of the Plan of Chicago. These two pavilions for the Chicago's Millenium Park are designed by Ben Van Berkel of UNStudio & Zaha Hadid of Zaha Hadid Architects.
Pavillion by
UNStudio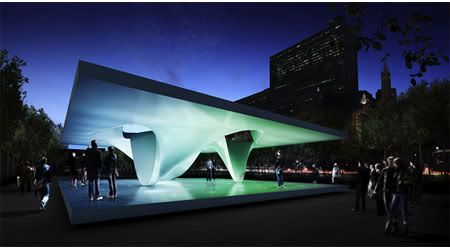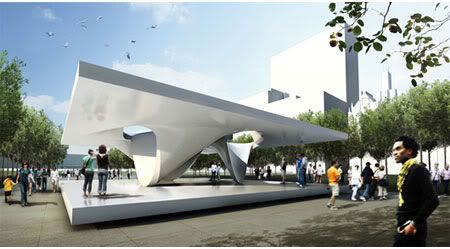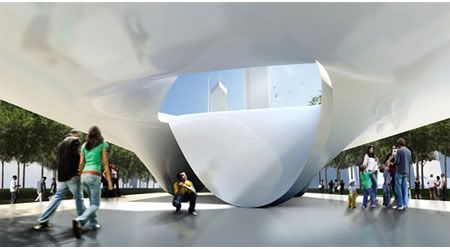 The sculptural UNStudio pavilion is highly accessible and functions as an urban activator. Framed by Lake Michigan on one side and Michigan Avenue on the other, it relates to diverse city-contexts and scales. The edges of the roof are parallel, but toward the center there is more complexity in the form.
At night, UNStudio's pavilion becomes a responsive architecture with LED lights that change color and pattern. These lights will be in constant flux as the number of visitors to the pavilion changes. Programmatically the pavilion invites people to gather, walk around and through the space—to explore and observe. It's sculptural form and reactive lights will spark curiosity and wonder in its visitors.
The UNStudio pavilion is made of steel, clad in plywood, and is covered in high-gloss white paint to reflect the city and pavilion visitors. It will be built of steel donated by Chicago-based ArcelorMittal, and after October 31 will be de-constructed and recycled.
Pavilion by Zaha Hadid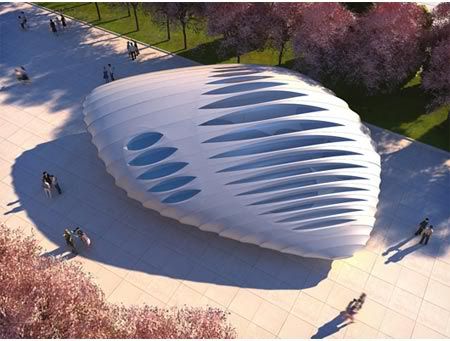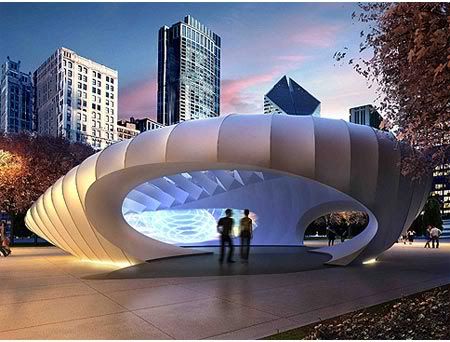 Zaha Hadid's pavilion is a tent-like structure made of light weight aluminum and dressed in a tensile fabric. The exterior skin rises and falls along its aluminum ribs—the lines for which were derived from the diagonal lines and avenues in Burnham and Bennett's 1909 Plan. Louvers in the pavilion's ceiling will bring an interplay of light and shadow into the space as the sun changes position during the day. Exterior lighting will highlight the pavilion at night.
The interior of the Hadid Pavilion will serve as a screen for an immersive video installation created by UIC-trained and London-based artist Thomas Gray for The Gray Circle. This film will tell the story of Chicago's transformation, including visions for Chicago's future by local architects. The pavilion envelops visitors in its sinuous form, but the addition of Gray's film leads to an even more engaging experience. This pavilion and video exhibition will inspire public discourse about the history and future of Chicago.
The aluminum structure for this fabric pavilion was donated by Marmon/Keystone Corporation, a member of The Marmon Group of companies. The Pavilion can be dismantled and re-installed in another location.
via
The Burnham Plan
|
UNStudio
|
Zaha Hadid Architects