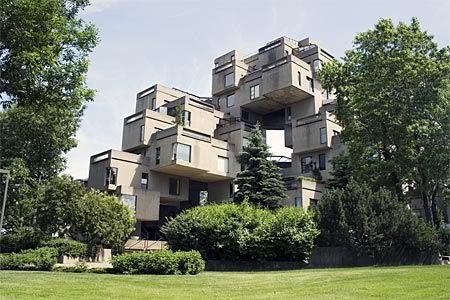 354 cubes of a magnificent grey-beige build up one on the other to form 148 residences nestled between sky and earth, between city and river, between greenery and light.
Habitat'67
Design Team:
Moshe Safdie and Associates with David, Barott, Boulva, Associate Architects
Location:
Montreal, Quebec, Canada
Cost:
C$17,000,000
When to visit:
Anytime
Habitat'67 began as a master's thesis project prepared in 1961 by Mr. Safdie, then an architecture student at McGill University. He came up with the idea of a high density apartment building that would provide residents with privacy as well as peace and quiet. He was invited to develop his idea for Expo 67 and did so alongside engineer August E. Komendant. By the time the universal exhibition came round, the project was partially completed, and 26 apartments were reserved for the Expo.
Habitat 67 pioneered the design and implementation of three-dimensional prefabricated units of habitation. Stepped back in their modular placement, each residence has its own roof garden. Three separate elevator cores direct vertical circulation throughout the complex, with cabs stopping at every fourth floor to serve pedestrian streets. Every part of the building, including units, pedestrian streets and elevator cores, participate as load-bearing members; units are connected to each other by post-tensioning, hightension rods, cables and welding, forming a continuous suspension system.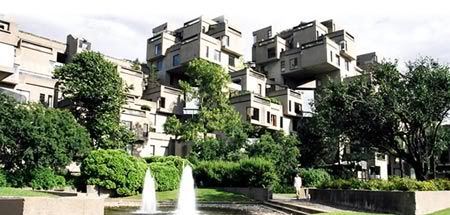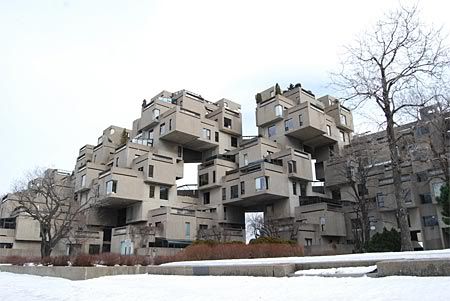 The design for Habitat relies on the multiple use of repetitive elements, called boxes or modules, which were arranged to create 16 differently configured living spaces. The housing complex had 354 prefabricated units, initially forming 158 one or two story apartments ranging in size from 600-square-foot one -bedroom dwellings to 1,800-square-foot four-bedroom dwellings, exhibiting fifteen housing types in all. Each unit features a molded plastic bathroom and a modular kitchen that are still incredibly modern even by today's standards. The apartments were divided into three pryamids.
Integral to the sense of community Safdie sought to create at Habitat are its external walkways, called "pedestrian streets," which interconnect the multi-levelled residential modules on five storeys (Habitat's ground floor, plaza, and its fifth, sixth, and tenth floors), while providing direct access to each residence. It is precisely these walkways which both expose the building to the natural elements and open into communal spaces for Habitat residents.
It is precisely these walkways which both expose the building to the natural elements and open into communal spaces for Habitat residents.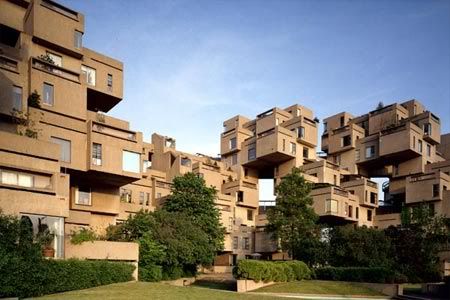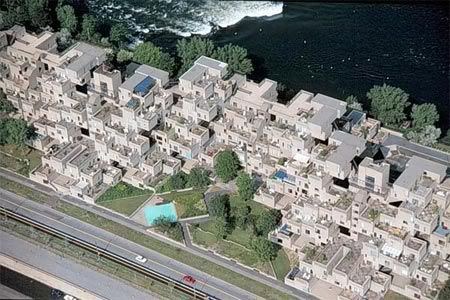 The commercial and institutional facilities that Safdie had originally envisioned for the project, its schools, shops, offices and cultural spaces, never materialized. A convenience store beneath Habitat in the complex's 200-car underground parking lot is its only retail operation. As the commercial dimension of Habitat was never fully developed, in theory only did Safdie's original Habitat project represent the first of the architect's many designs for mixed-use buildings.
On 27 March 2009, Habitat'67 has been bestowed historic monument status by the Minister of Culture of Quebec Goverment. The exterior of the building is now a designated heritage site, but not the interior because they are privately owned condos and it would be too difficult to maintain authenticity.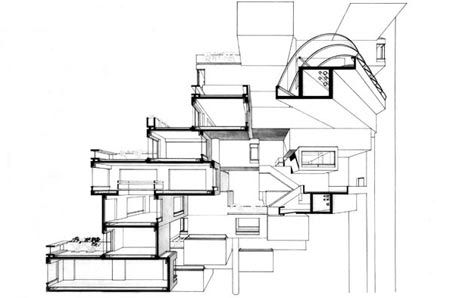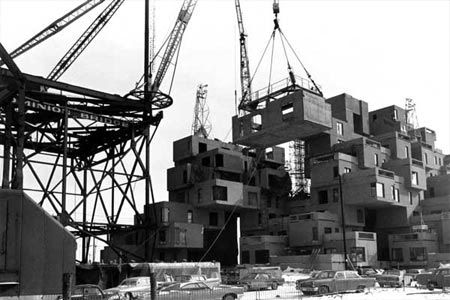 Photo credits:
Paul Lowry
via
Habitat 67
|
McGill Archive
|
Moshe Safdie and Associates