The steel grid forms a supporting structure for climbing plants (Star Jasmine), creating the appearance of vertical hanging gardens, reminiscent of a ivy covered buildings.

Centro Direzionale Forum
Design Team:
Mario Cucinella Architects
Location:
Rimini, Italy
Cost:
€ 3,500,000
When to visit:
Completed 2006
This mixed use building is located at the junction of a busy road at the entrance to Rimini town. It is five stories high and houses 1,700 m2 of offices and retail units.

The building has an L shaped layout, facing onto a major road junction, with the entrance set at the point at which the two axes meet. The entrance is distinguished by a deep fracture in front of the road intersection that captures attention against the sheer surface of the facades.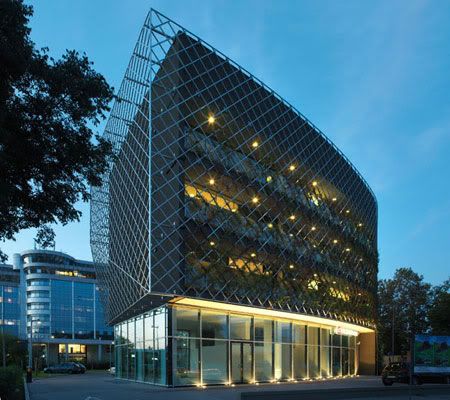 The most striking feature of the design is the curved façade that faces the street, a green skin reminiscent of traditional ivy covered buildings. It is made from a steel grid where climbing plants grow that creates an uninterrupted screen over the entire length of the building, embracing the lateral elevations and connecting to the rear courtyard façade. This screen serves to give the building an homogeneous form that is in turn broken by a vertical split - a deep fracture that leads to a garden behind. The dark colour used on the building contributes to the contrast between the green skin and the entrance fissure.
The offices floors have balconies that overlook the street and are screened by the climbing plants. This system is permeable to air and light so the walkways can be used as veritable outdoor spaces.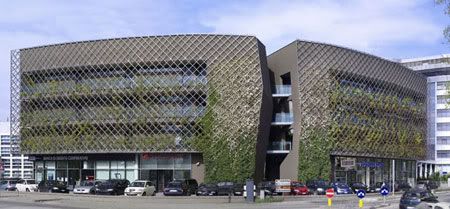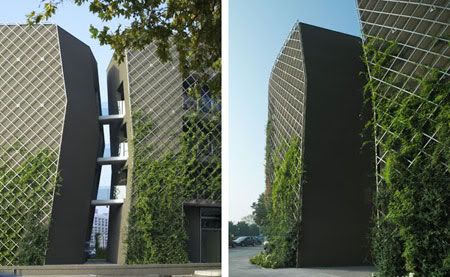 Immediately behind the planted screen the galleries are protected by a circular section steel handrail with steel support posts.
At the rear of the building the two faces looking inwards over the plot form an angle of around 90° offering a secluded space for gardens or a covered piazza. The internal elevation of the building has a more secluded feel with its view over the internal courtyard garden.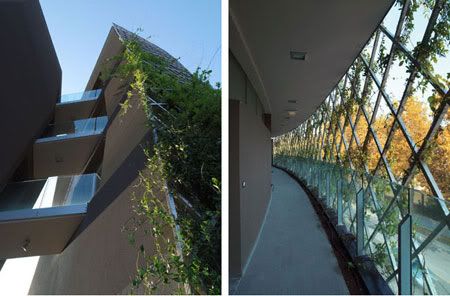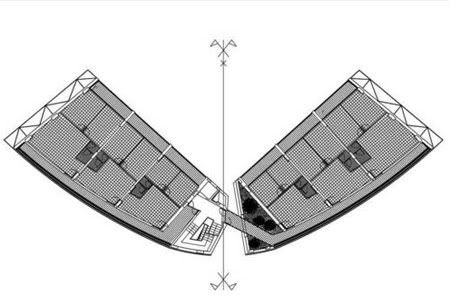 via
Mario Cucinella Architects