Gimme Shelter has a submerged ground design and draws inspiration from cave dwelling of nomads in Mongolia. Based on sand dune morphology, the submerged design structure provides adequate warmth and air during winter and summer months.

Gimme Shelter, Ordos 100
Design Team:
Rojkind Arquitectos, Herzog and de Meuron, Fake Design
Location:
Inner Mongolia
Status:
Completion 2010
Mexican architecture firm,
Rojkind Arquitectos
was chosen to build the Gimme Shelter for the Ordos 100 project. Gimme Shelter is a private multifunctional residence, to be built on a total area of 1,000m².
Gimme Shelter drew inspiration from the Mongolian nomads. The building design is based on ancient cave habitats known as Yaodong, a structure that withstand the tundra climate and harsh summers of Inner Mongolia.
To shelter the residents from extreme climatic conditions, Gimme Shelter has a protective shell that incorporate passive solar and geothermal design elements along with elastic design elements. The residence will have four floors, connected by a series of bridges. The entrance is located in the north side of the hard protective shell and leads to the second floor. The west side houses all services while the main living areas are located in the extreme east along with other support features.
Distribution of private and public space was decided on the premise of dynamic-programmatic circulation. The residence covers a number of storeys, having separate areas such as living room, work room, rest room and interior gardens. Each space is uniquely shaped and has been designed in such a way that ceilings become terraces for other semi-private activities. Walls and ceilings shift in different directions making the areas multifunctional.
The interior gardens house various plants and are a design feature that naturally cools the inside of the building during summer. There are a numerous enclosures as one moves towards the interior garden area. These enclosures allow cross ventilation cooling during summer months.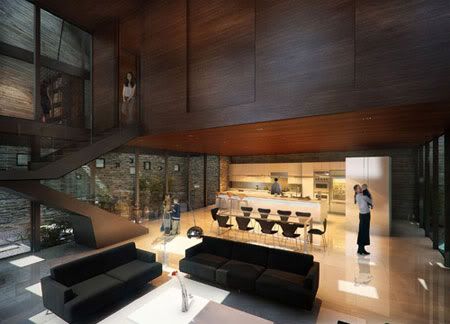 via
kosekose