Architecture often separates structure and decoration,but in this chapel there is no border between these two elements.

White Chapel, Hyatt Regency Osaka
Design Team:
Aoki Jun
Location:
Hyatt Regency Osaka
When to visit:
Completed 2006
White Chapel is a small chapel built within the site of Hyatt Regency Osaka. It is used for wedding ceremonies and accommodates 80 people. The structure consists of square steel rings 60cm in diameter, with sides of 25mm, which are interlocked three-dimensionally.
The ring components were inspired by the shape of a tetrahedron. Its flat planes were replaced with rings, connected at their edges. Although the structure uses rings to create diamond-like shapes, the two most common symbols of marriage, Aoki says this is a happy coincidence: "I just pursued a beautiful geometrical shape."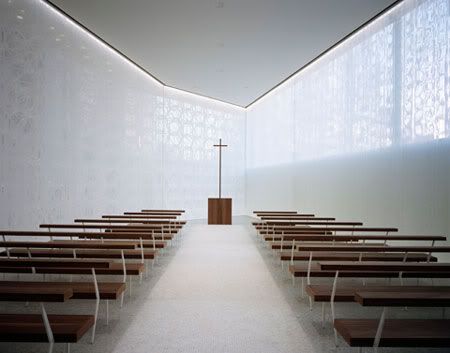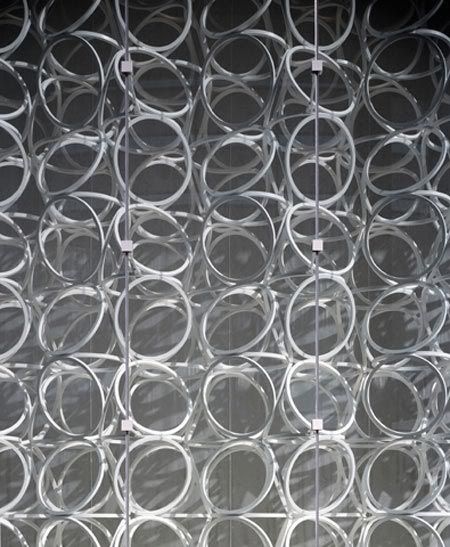 The three-dimensional layout of the ring corresponds to the array of the circle, inscribed in the 4 regular hexagons within the unit. Steel rings are welded together, forming a foam-like three-dimensional grid which is mainly occupied by voids. This not only supports the roof but is also used to assist the glass exterior as MPG System. Inside the grid, a double-layered woven screen of white organdy is hung.
By day sunlight enters the chapel through the six-metre-high network of rings. At night, it is illuminated by fluorescent strip lighting along the top and bottom of the wall, along with recessed halogen down lights, creating a glowing reflection in the lake.
These sensuous qualities probably account for the great success of the chapel: in its first year, more than 200 weddings have taken place there.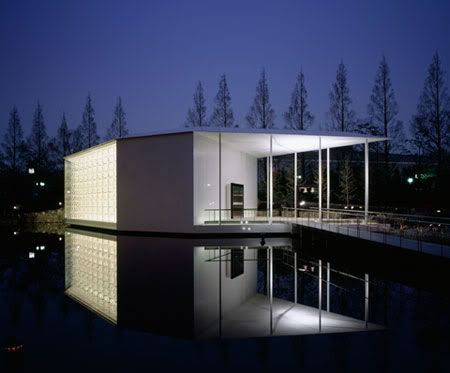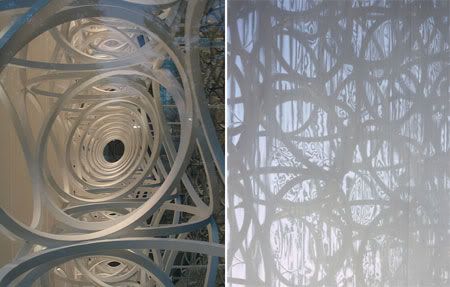 via
Aoki Jun