Jugetsudo, which means a place to watch the moon, is the brand of Japanese green teas. Their first salon outside Japan is a simple and functional place, where customers will be able to get a glimpse of Japanese culture through the spirit of tea.

Jugetsudo, Paris
Design Team:
kengo kuma & associates
Location:
95, rue de Seine, Paris
When to visit:
Open 11:00 - 19:00 (Closed Sunday, Monday and national holidays)
Jugetsudo
, is the brand of green teas launched by Maruyama Nori, a 155-year-old family-run Tokyo company specializing in edible dried seaweed. The founder's great-great-granddaughter Maki Maruyama, director of the Paris salon, asked Kuma for a design both contemporary and traditional, in harmony with nature and the Zen spirit of the Japanese tea ceremony. Jugetsudo has chosen to entrust the design of their boutique to Kengo Kuma because his ideas and the spirit of his work are perfectly in line with the conception of the Jugetsudo brand; "a concord of tradition and renewal."
The bamboo thicket was his main concept for the 800-square-foot project. "In the thicket floats a different kind of air from that in our daily lives," he explains. Literally, of course, it's the thicket itself that's floating: 650 stalks of natural Japanese bamboo measuring 1 to 4 feet long suspended from the ceiling. Although they're installed in a regular grid pattern, the different lengths create an impression of undulations.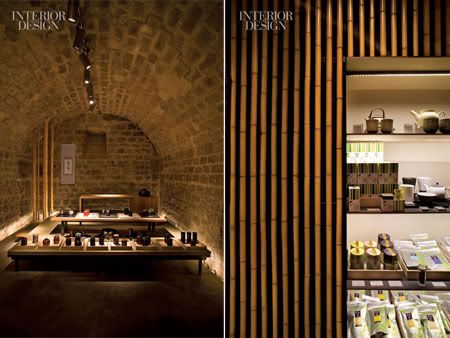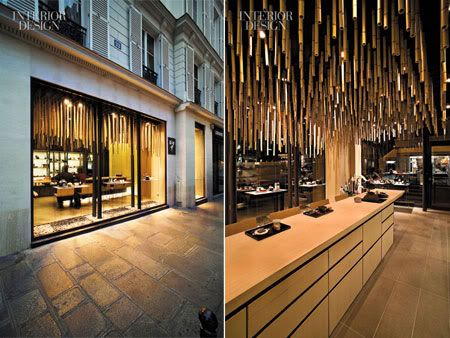 Kyoto temples, where the flooring is often salvaged from roofs, inspired Kuma's choice of slate-gray sandstone for the floor tile on Jugetsudo's ground level. Running around the perimeter is a trough filled with paler gray river rocks—a miniature rock garden. Contributing yet another shade of gray is phosphate-finished steel, one of Kuma's favorite materials. Steel shelves, suspended in the windows or built into the sidewall, offer canisters of tea along with exquisite teapots, cups, and other ceramic wares.
Warmer neutrals play a part as well. Full-height walls of rice paper appear in two different textured patterns in identical shades of creamy white. In the center of the room, tea and Japanese sweets are served to customers seated along one side of a counter, a single knot-free slab of the blond hinoki cypress revered in Japan and often used in temples and shrines. Durable, lustrous, and fragrant, the wood "fits harmoniously with the idea of a tea salon," Kuma says. Set into the counter is a large hot plate for boiling water in an ornate cast-iron kettle.
Jugetsudo is the first project completed in France by Kengo Kuma & Associates. The overall design was to encourage "not only the selling of tea but also cordial communication with customers," Kengo Kuma says.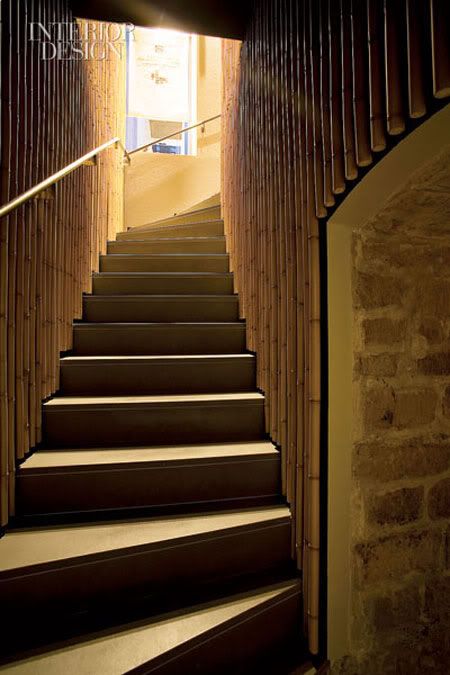 Photos credits: Jimmy Cohrssen.
via
InteriorDesign