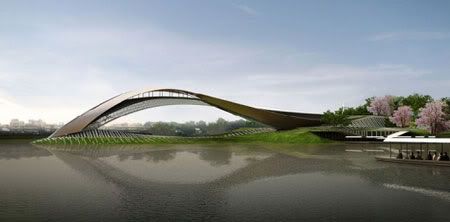 The river on the north side of the island has a green color and the south side is red. After those two rivers combine green and red color still tracking itself along Chao Phraya River creates a resonance stripe.

Pasaan Memorial/ Museum
Design Team:
Fars Studio
Location:
Nakom-Sawan, Thailand
Status:
Competition 1st Prize
Cost:
200 Million Baht
Thailand firm Fars Studio has win a national design competition for the Chao Phraya River Memorial and Museum in Nakorn-Sawan, Thailand. Fars' proposal is a bridge-like Memorial & Museum, to create a landmark symbol for the significance of the river in this region.
The site Nakorn-Sawan, is a place where four rivers: River Ping, Wang, Yom and Naan combining together become Chao Phraya River. During the flood season, differentiate between low and high-tide is up to 9 meters.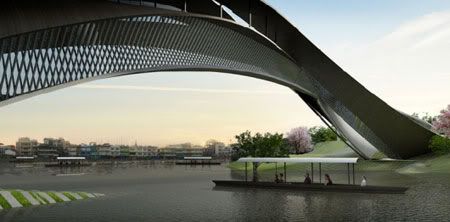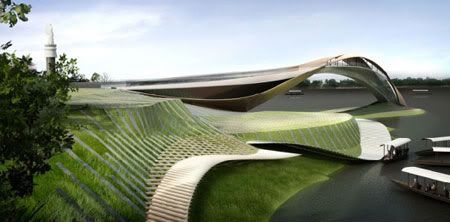 The Pasaan Memorial/ Museum is designed based on two condition:
First, Inside the Yom island, architecture becomes the complement of the nature; nothing can explain how beautiful the nature better than the river itself. In one axis, parallel to the River's resonance stripe, the architects optimize numerous locations, elevation and appropriate angle on the site for people to perceive all the sceneries of the Rivers. In one route the architecture leads the people to each imperative locations such as; the point where people see 2 river all together, the point where people can see the whole city around the area, and the point where people see the confluence.
Second, from outside of the island, the architecture becomes a symbol the river represented through the Thai artistic weaving stripes. The bridge-like architecture accentuates visual connection and creates physical connection between 2 sides of the river; allowing people to sail pass and make the memorial alive during the high tide period.
Due to the local construction technology and the materials that resistance to flood, concrete is a major structure on the area between high and low tide and steel is for the rest. The cladding for the stripes is a combination between copper panel and wood.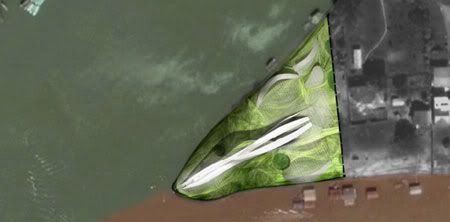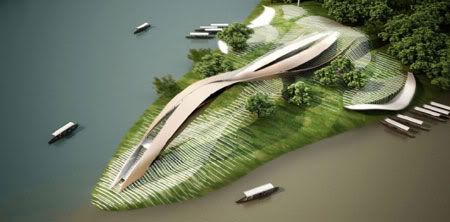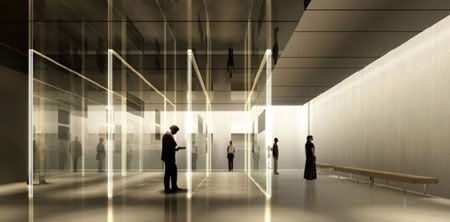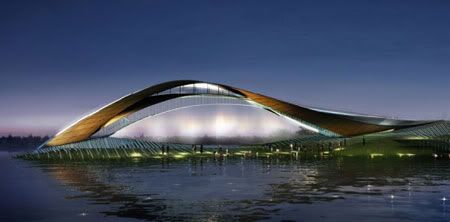 via
archtracker