The design was inspired by the movement of people and trains at New Street and the beauty of the skyline.
Birmingham New Street Station /Birmingham Gateway
Design Team:
Foreign Office Architects
Location:
Birmingham, UK
Cost:
£598m
Status:
First phase 2012, Second phase 2015
Foreign Office Architects beat more than 40 competitors to design the Birmingham New Street Station replacing the old station that has long been criticized for its outdated concrete appearance, lack of natural light and passenger congestion. The Birmingham New Street Station is an important transport hub and a key aspect of the city's public realm. As the first impression of Birmingham to a large influx of visitor, the newly design transport hub will will support over 52m passengers a year when operate.
In the new station, the distortion of perception produced by movement will be used in a similar way to the Doppler Effect's distortion of sound - by transferring the undulating, smooth forms of the track field into the geometry of the building, the design will distort the perception of the stations urban setting.The building is enclosed in a reflective screen which climbs the fee and wraps around the building. The concept for this envelope is simple: to clad the station in Birmingham Sky, crowds of people and trains. By turning this external rainscreen into a warping, reflective stainless steel surface the station will produce a controlled reflection of the surrounding urban field, tilting to avoid the reflections of surrounding buildings and shaping itself to reflect instead the famously cloudy Birmingham Sky, the moving crowds of passengers and the trains entering and exiting the station as the clouds pass over the buildings skin. This smooth, curved geometry, the buildings use of bifurcation as a formal system and its distortion of perception will combine to generate its identity.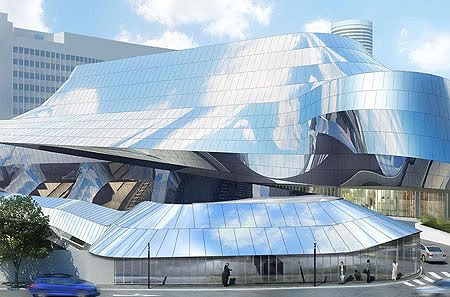 via
boxercreative