The concept for the south wing is remarkably simple. The new building has three areas: the lower building shaped largely by the historic fabric, the "neutral" distribution zone of the entrance level, and the upper floor that tells us about contemporary technology.

Schloss Museum Linz
Design Team:
HoG Architektur
Location:
Linz, Schlossberg, Austria
Status:
Completion 2009
A former imperial residence, military hospital, prison, barracks and, most recently, a museum, the Linz Castle has been home to the Upper Austrian national museum since 1965. The castle lost its city-facing south wing to a fire in 1800. With the need for more and bigger exhibition spaces offered an ideal opportunity to replace the lost wing with a 21st-century extension.
HoG Architektur from Graz won the design competition in 2006 with the winning concept rested on a dual strategy: to reinstate the missing wing without entirely closing off the castle courtyard, and to preserve the public accessibility of this unique location.
The design achieved this by means of a layered volume. The old wall has been topped by a windowless 'beam' that hovers over a pedestrian route along the foyer, museum shop and restaurant. The wide span and 30-metre cantilever above the main entrance is made possible by an elevated steel truss construction.
The inside of the castle complex has a more open, less defensive character. The classic symmetry of the castle is disrupted by, among other things, allowing the new wingto bend and curve. The stepped topography of the courtyard has been replaced by a raked plateau that adds a new, functionally binding yet subtle element. Rather more eye-catching is the Y-shaped glazed staircase and connecting bridge that float above the courtyard.And incontrasi to the three underground levels, where some of the exhibition space is housed, daylight is welcomed with open arms here. The diagonal diamond pattern of the huge glass panels provides another contrast with the overall horizontality of the new wing. And raising the pedestrian bridge above the ground serves to emphasize the transparency of the intervention.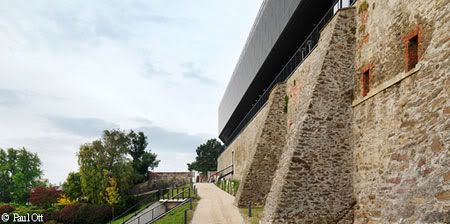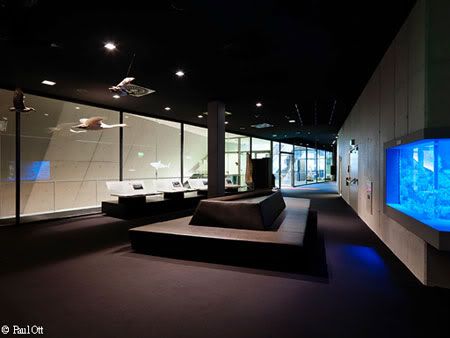 via
Schloss Museum
|
HoG