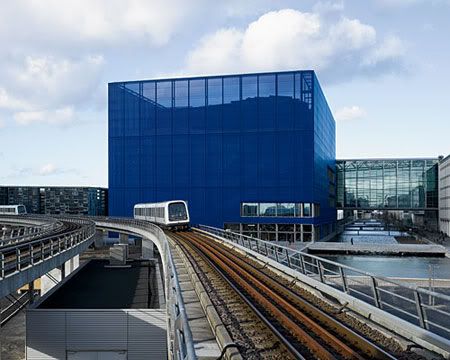 Jean Nouvel's design approach, both the container and the auditoriums and spaces within assume a vastly different character depending on the time of day you visit, with its scaffolding-like blue box by day and fun-house lighting at night.

Concert House Danish Radio/ Copenhagen Concert Hall
Design Team:
Ateliers Jean Nouvel
Location:
Copenhagen, Denmark
Status:
Completion 2009
Concert House Danish Radio, which belongs to Danish Radio and is the home of the Danish National Symphony Orchestra, sits on the outskirts of historic Copenhagen. With no built environment upon which Nouvel could establish a link to, the architect took the risk of following a completely new path. Nouvel converts the location's lack of definition in urban planning terms into something positive by creating a presence, an identity, that is an exceptional urban building respecting the planned layout of the site.
From the outside in bright light, it looks like nothing more than a large rectangular blue box in an industrial landscape. When the sun goes down, it is transformed into an ethereal, dematerialized object with images of musicians eerily flitting across the screens of glass fiber with a PVC coating. The multilevel interior foyer also changes personality by day and by night. In broad daylight, the main lobby looks like an airport from a 1940s war movie, where sun streams through large window walls and illuminates the dark concrete floor and military-style furnishings designed to resemble flight crates for musical instruments. At night, the tough-glam lobby takes on the iridescence of a multimedia nightclub, with projections splashing polychromatic patterns and videos across various surfaces.
The Main Concert Hall, Studio 1, seating 1,809 and raised above the lobby, it looks in section like some giant clam caught among pilings within a huge (190 by 315 feet) blue cage, 148 feet high. Nouvel called in Yasuhisa Toyota, who was also the consultant on Disney Hall, to design a space that could provide the right mix of direct and reflected sound with the appropriate reverberation time, and ensure a sense of clarity without dryness. Angled walls of CNC-milled birch-veneer board with textured grooves provide reflectivity and absorption, supplemented by "wave" walls of layered gypsum board in the upper part of the auditorium. In addition, lacquered birch-veneer panels on the ceiling and a sound reflector canopy over the stage modulate the acoustics in the hall where the ceiling soars to a height of 77 feet. With the birch walls stained a warm chestnut tone and the wave walls imbued with lush reddish and ocher tints by decorative painters Alain Bony and Henri Labiole, the room has the roseate candlelight glow of traditional concert halls.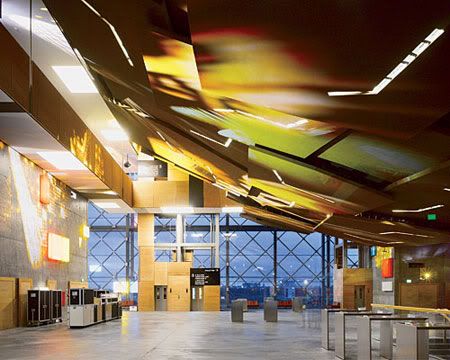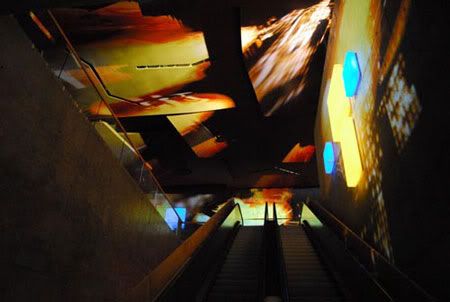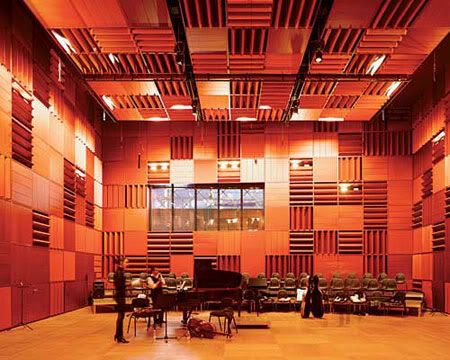 While Nouvel placed this largest hall in the upper reaches of the building, he sank three smaller music spaces about 8 feet below grade. The largest is a 540-seat rehearsal and concert hall (Studio 2); the next is a flexible black box (Studio 3), which accommodates 170 people standing or sitting for various musical fare; and a small, red concert hall that doubles as a production studio for 180 people (Studio 4). The three ancillary performance halls reveal distinct acoustical capabilities. Four strata of birch-paneled sliding doors in Studio 2 heighten the reflectivity of sound for orchestra rehearsals. In Studio 3, black gypsum-board wall panels open to absorb sound and provide a short reverberation time. Finally, in Studio 4, red aluminum-and-felt panels pivot for acoustical flexibility, for both recording and rehearsal use. Numerous music rooms, offices, and archives placed on the north end of the building supplement the performing arts spaces, and receive additional light by virtue of an elevated, outdoor courtyard.
Jean Nouvel won the competition to design the about 592,000 square foot concert hall in 2002, a fourth component of DR City, a 1.42-million-square-foot complex for Danish Radio's offices, TV, radio, and orchestra productions.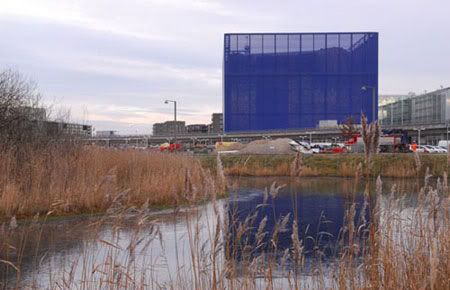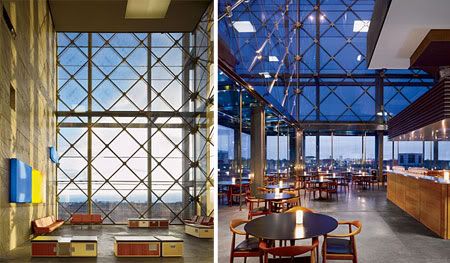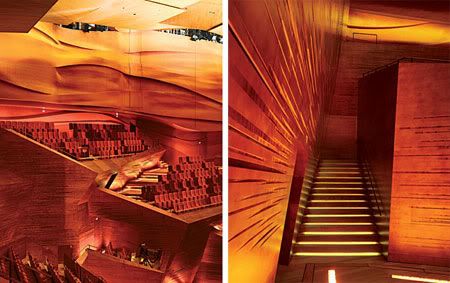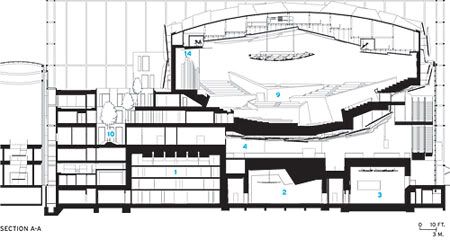 via
archrecord
|
Jean Nouvel