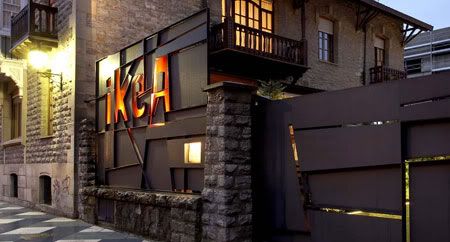 Ikea means a small hill in Basque. To conceptualize the interior decoration of Ikea, the designers imagined it as a restaurant in a farmhouse set on the top of a small hill, surrounded by a forest of beech and oak trees.
Ikea Restaurante
Design Team:
Estudio Mariscal
Location:
Vitoria-Gasteiz, Spain
Status:
Completion 2006
The fact is that the Ikea restaurant in Vitoria is a fairy story house, which is in the middle of a forest of buildings and apartments. After the reform, the forest is experienced inside. Oak and other local woods share the area with warm stone and granite. Unpolished wood and stone, leaving the grains and knots, the cut of the saw on view... Seeking the authenticity of the materials more than the rustic nature they mean.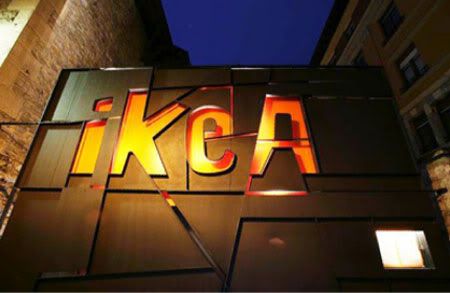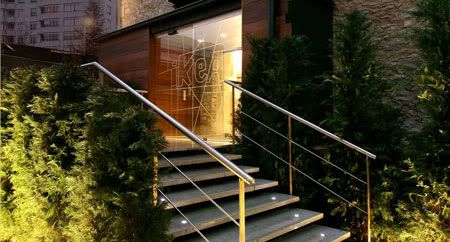 Oak floorboards on the floor. On the ceiling, a framework of unpolished, cut trunks without seeking perfection, as if they had been hand cut, through which artificial light filters. On the inside walls, panels of different woods on which a mosaic of irregular pieces has been made, in which stone occasionally finds a place. Different varieties of wood, different textures and cuts to provide a primitive sensation in which formal imperfection was simply a quality of the material.
On some of the panels there are crabs, made of fibreglass and illuminated with fibre optics, which provide a contrast and will be a reference to contemporaneity, somewhere between crudeness and sophistication. A kind of metaphor from Jose Ramon Berriozabal's kitchen, who prefers cooking to experimenting, but who does not scorn researching into flavours and including products that do not come out of the traditional recipe book.
As far as the treatment of the space is concerned, the old dividing walls were removed to create light and airy spaces that coexist with other more intimate and welcoming ones, when diners wish to enjoy privacy.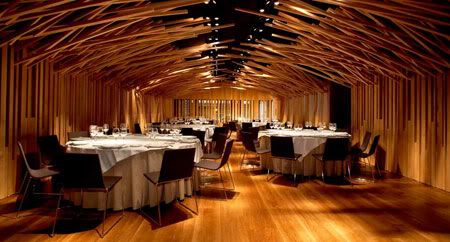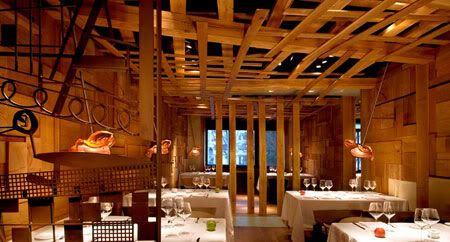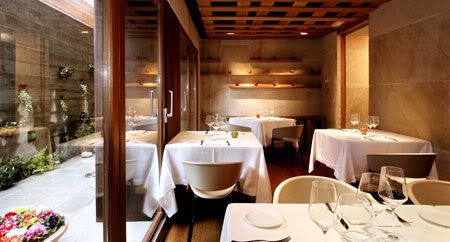 To introduce natural light into the lower ground floor, an English courtyard was created, long and narrow and closed in on one of the sides by a concrete wall which will be covered in plants, while the wall that communicates with the diners has had large windows opened in it.
On the exterior, box hedges will follow the perimeter of the facade.
As an annexe to the restaurant, there is a marquee; a place for holding banquets, which Mariscal has conceived as a "lay cathedral". A structure made of strips of beech wood envelops an interior space and gives it great character.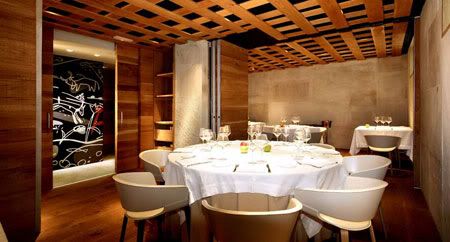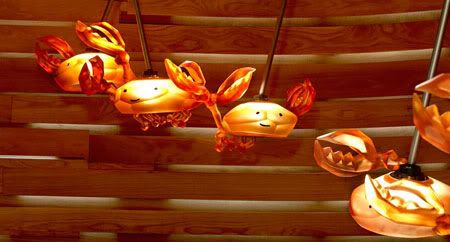 via
Estudio Mariscal