A collaboration between 3 architects, a glass artist and a painter, an abandoned old schoolhouse has been turned into a Swedish retreat that fit for a King.
Råman House + Studio
Design Team:
Claesson Koivisto Rune (CKR)
Location:
Baldringe, Sweden
Status:
Completed 2001 (House), 2003 (Studio)
"My work is always a link between simplicity, function and aesthetic values". - Ingegerd Råman
Indeed, the Råman House & Studio designed by Claesson Koivisto Rune (CKR) for Sweden's most renowned designer of glass is an obsession with white, with wide and high windows and expansive wall space - it's a house that serves just as well as a gallery for artwork as it does as a home.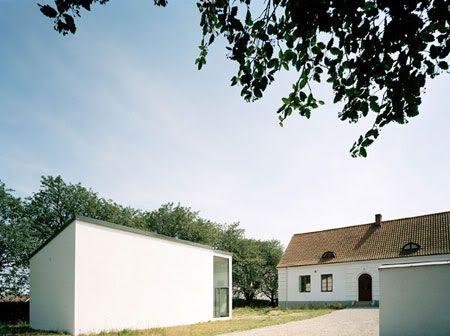 The Råman House was a rehabilitation of an old school house where Ingegerd and her husband, artist Claes Soderquist bought at a very cheap price because nobody wanted it. The house had been abandoned for 15 years and the surrounding land was essentially a thick forest that sunlight could not penetrate. There were at least 100 trees in the backyard so the first task was clearing the trees, allowing the house emerge from the shadows.
Rather than reforming the exterior, CKR decided to keep it very much as it was. With the intention to hide that the house was completely modern, the house was keep subtle, just a hint that there was something new going on. The interior is generous with white colour walls, lining the bedroom are storage spaces and closet all hidden by white panels opened by a "shadow gap" at the top of each panel. The cluster-less interior makes the house feel so open, you don't get caught up in all the crevices and your mind can just flow easily.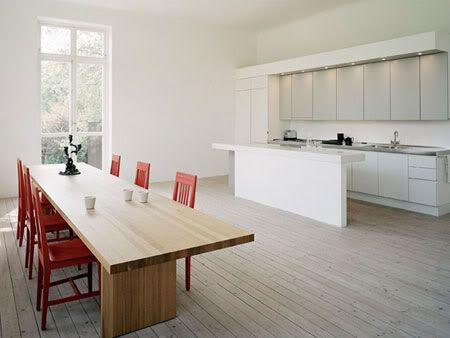 While Råman originally to have her studio in the house, but as soon as they lived in the openness interior, they got so used to it as it was that they decided they couldn't be without the open spaces. So CKR built a new studio beside the house upon Råman request. The studio was designed with elements of the traditional farmhouse in the area, but to keep it from just being a white box, CKR putting in a skylight and having roof-line match directly with that of the main house.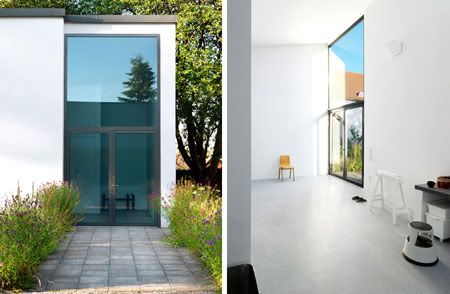 via
ckr