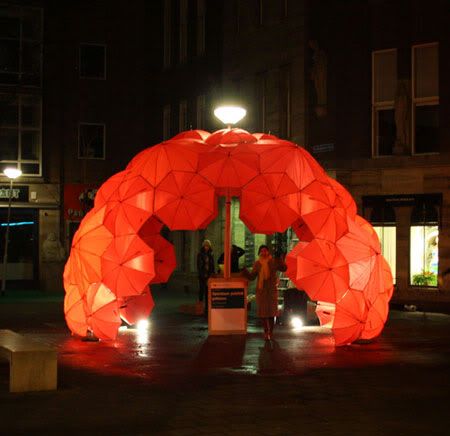 Bucky Bar is a spontaneous street party, a temporary public building designed by DUS architects. The dome-bar, entirely made of umbrella's, appeared seemingly suddenly out of nowhere on the street around a lamppost in the centre of Rotterdam.
Bucky Bar

Design Team:
DUS Architects
Location:
Rotterdam, Netherlands
Status:
Built 19 Feb 2010, dismantled at 2.00am
Visitors were asked to show up with an umbrella to contribute to the spontaneous building at an outdoor location on a Friday night in Rotterdam, NL. With the help of a team of architects, the umbrellas were then used to build a fully equipped bar, complete with DJ and drinks. Exactly at 10 the party started in full swing, and old and young, architects and coincidental visitors danced together despite the cold. Umbrellas were attached to each other into one big shelter, so even a bit of rain didn't kill the party.
300 people turned up at the event, and just as it began, the beautiful building ended its life spontaneously when the Police showed up at 2:00 AM to ended the party as there was no permit.
The Bucky Bar is part of a series of 5 unsolicited positive advises for the city, that DUS architects in a collaboration with SUA (Studio for Unsolicited Architecture) pasted onto billboards of existing building signs in the centre of Rotterdam.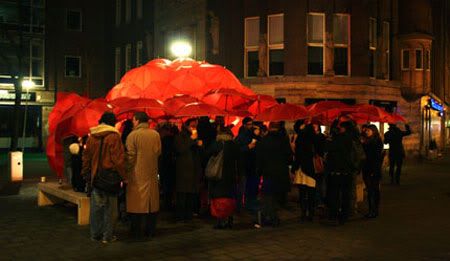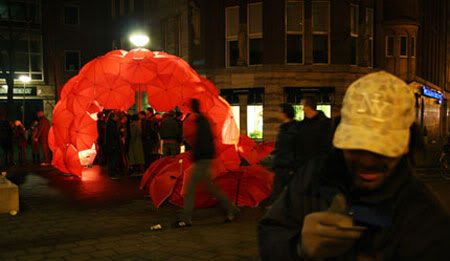 The Bucky Bar was first in the series and realized on 19 February 2010. A spontaneous public building made from the most common of materials: an umbrella. As Buckminster Fuller showed us how minimal energy domes could open a way to a more environmentally sustainable future, could an umbrella dome lead the way to a more socially sustainable future? The Bucky Bar is a full-scale model of such a future. It shows the power of space for spontaneous gathering, for improvised shelters to host conversations, debates, games or even parties. Quote of the night: "when is the next party?!".
Bucky Bar is a project by the DUS Architects and the Studio for Unsolicited Architecture, produced to coincide with the opening of the Architecture of Consequence exhibition at the Netherlands Architecture Institute (NAi).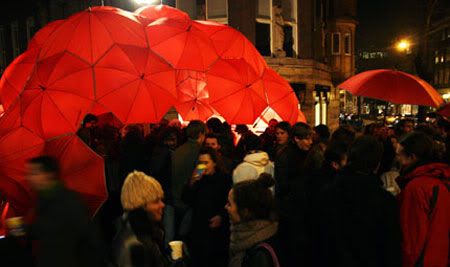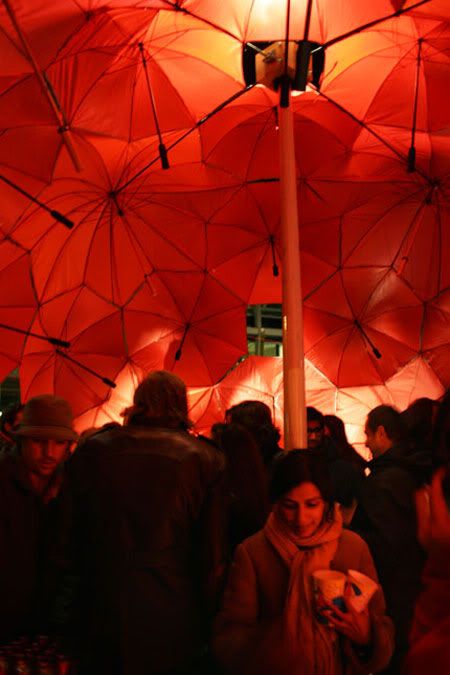 via
DUS Architects