The difficulties of the site, is the oblique angle of the steep cliff to the view, and a huge rock that was incorporated into the design of the resort house.
Villa Astrid
Location: Gothenburg, Sweden
Status: Completed 2005
Located at the scenic West Swedish landscape, the Villa Astrid was tucked between two houses and consisted mainly of rugged and fairly steep rock. The detailed plans was dictated by the local building code, which stipulates a maximum 3.5-metre eaves height and a roof slope of 14 to 27 degrees. With the client requirement of a two-storey building, the answer was to sink the upper floor.
Villa Astrid is low and light, standing there beneath a large pine tree at the end of a small lane. There is a car port and a storage room to the left and you enter the building through the only entrance in the otherwise solid gable end. The sunken atrium courtyard makes an astounding impression as you step inside. What appeared to be a low building suddenly becomes three storeys high.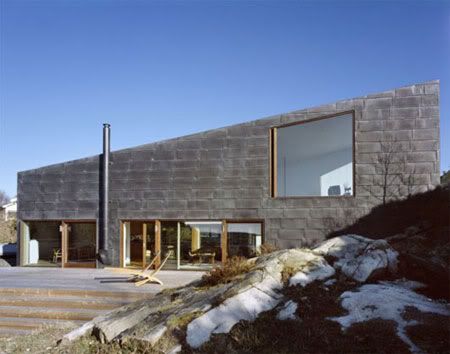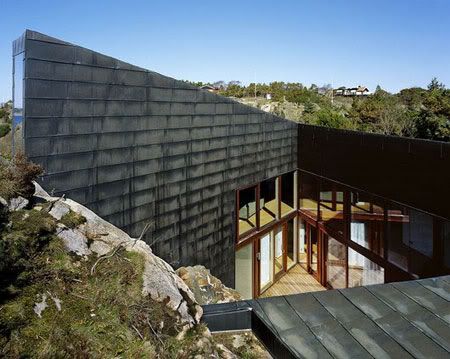 The rock with which it is united is exposed indoors and forms a wall of the deep courtyard admitting daylight to the reception rooms on the ground fl oor. At the same time the social and working rooms on the upper floor focus on the view, imparting a twist to the building – a contrapposto like a human fi gure with the hips and shoulders in slightly different directions.
Villa Astrid has an open-plan kitchen, a separate dining room and a large lounge nestled between the atrium and a sea view with the afternoon sun and sunsets. The latter are the reasons for the twist of the house. At the end of the space, there is a work shelf raised one floor above the cascading rock. The gable end facing the rock is mainly a huge insulated glass window that has been sunken into a seam-drilled slit in the rock. The floor below has two children's bedrooms, a living room and the parents' bedroom. Swing-sliding doors and insect-proof ventilation openings provide direct contact with the outside in all these rooms.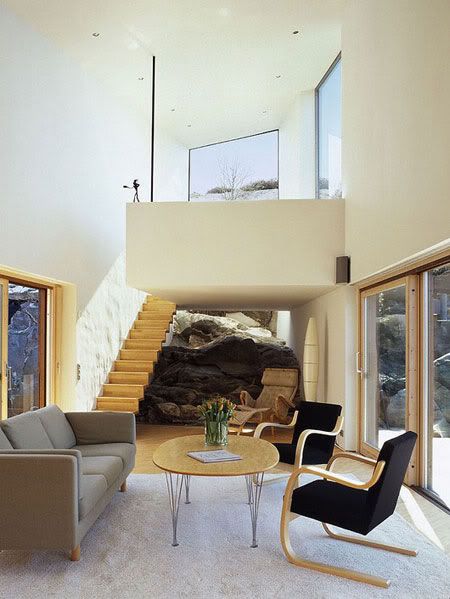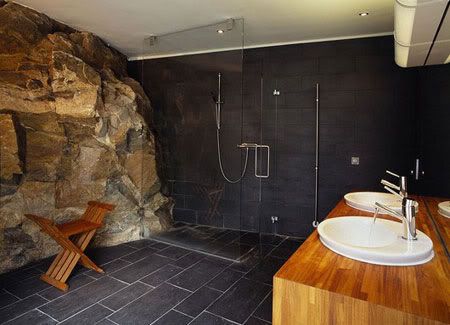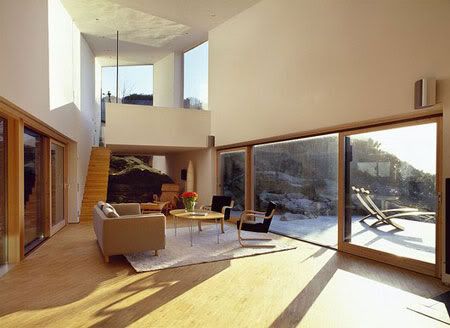 The roof is made of cast-in-place concrete, insulated with Foamglas and then clad with metal sheeting. The walls have been built in solid, light-weight concrete, plastered on the inside and outside, and then clad with metal sheeting. The black, pre-patinated, copper sheets will slowly become verdigrised. Released copper ions are bound by limestone gravel around the base of the building. It is pure and requires no maintenance.